Nigdy więcej. Sztuka przeciw wojnie i faszyzmowi w XX i XXI wieku
Never Again! Art against War and Fascism in the 20th and 21st Centuries
Does history repeat itself? Have we ceased to fear wars and violence? What sort of images can appeal to and stir one's imagination, get objection and resistance organised, initiate community projects?
'Never Again!'––the book and the exhibition have come as a response to the disturbance related to the intensified language of hatred and violent acts in the public sphere. Such violence often adopts a historical costume and evokes disgraced symbols. On the eightieth anniversary of the Second World War, we have taken a closer look at the antifascist and antiwar traditions, and pose the question: Can we learn any lesson from it today?
The book focuses on two historical moments and their emblematic representations. T.J. Clark and Francis Frascina discuss the beginnings of a strong international antifascist movement and the making of Picasso's Guernica in their now-classical texts (translated into Polish for the first time); David Crowley follows the complex and very political reception of the Picasso work. Dorota Jarecka's account on the formation of antifascist attitudes in the Krakow Group circle also deals with phenomena of the 1930s.
The question of the legitimacy and usability of historical analogies is tackled in the Dorota Sajewska and Krzysztof Pomian interview. The book concludes with a calendar of the artists' actions and activities against war and fascism.
The fifties and the groundbreaking 'Arsenal' exhibition (Warsaw, 1955) seen as an attempt at overcoming the corruption of antifascism in Stalinism, are covered by Łukasz Ronduda. The painting Napiętnowani [The Branded] by Marek Oberländer, the item most commonly associated with that far-famed exhibition, is the topic of an essay by Piotr Słodkowski.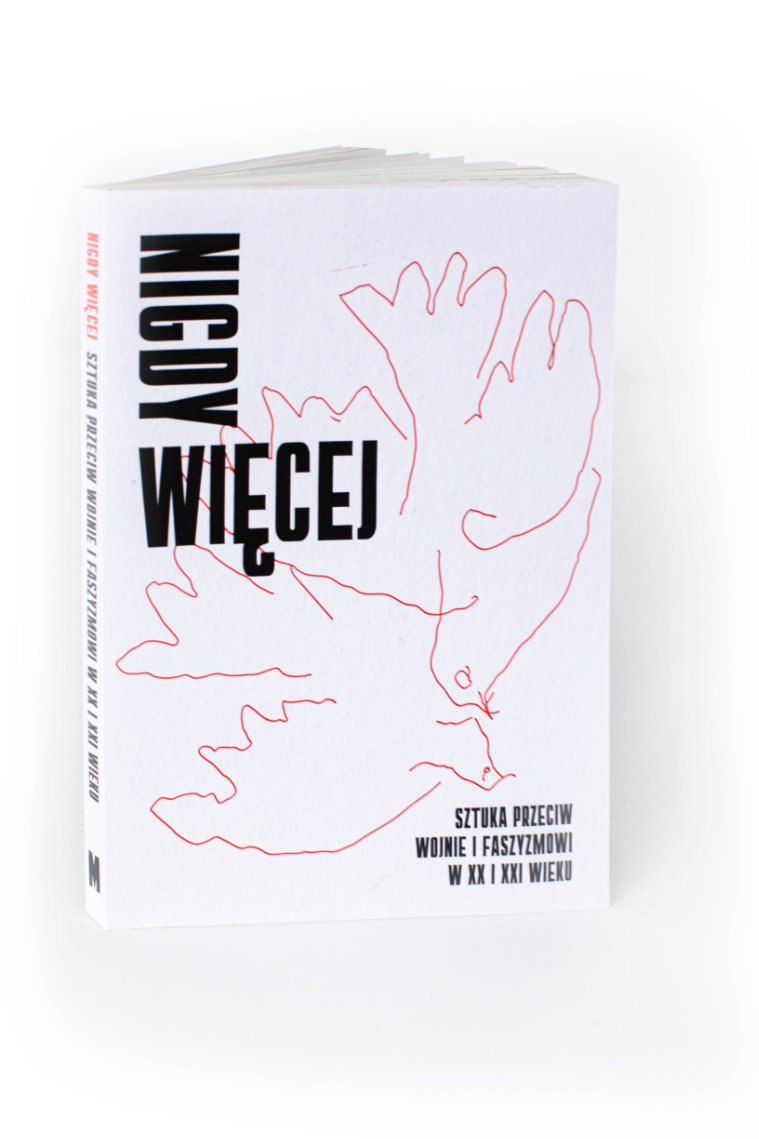 TITLE
NIGDY WIĘCEJ. SZTUKA PRZECIW WOJNIE I FASZYZMOWI W XX I XXI WIEKU
EDITORS
JOANNA MYTKOWSKA, KATARZYNA SZOTKOWSKA-BEYLIN
DOWNLOAD
TABLE OF CONTENTS, COVER
AUTHORS
T.J. CLARK
DAVID CROWLEY
FRANCIS FRASCINA
DOROTA JARECKA
MICHAŁ KOZŁOWSKI
KRZYSZTOF POMIAN
ŁUKASZ RONDUDA
DOROTA SAJEWSKA
PIOTR SŁODKOWSKI
BOGNA STEFAŃSKA, JAKUB DEPCZYŃSKI, ALEKSY WÓJTOWICZ
TRANSLATION
KRYSTYNA MAZUR
JAN POPOWSKI
SERIES
EXHIBITION CATALOG
LANGUAGE
POLISH
PUBLISHER
MUSEUM OF MODERN ART IN WARSAW
PLACE AND DATE OF PUBLICATION
WARSAW 2019
NUMBER OF PAGES
208
SIZE
165 × 235 MM
COVER TYPE
SOFT WITH WINGS
ISBN
978-83-64177-62-0
GRAPHIC DESIGN
MAGDALENA HELIASZ
COVER PRICE
49 PLN
EXHIBITION
NEVER AGAIN
ART AGAINST WAR AND FASCISM IN THE 20TH AND 21ST CENTURIES
NIGDYWIECEJ.ARTMUSEUM.PL
Related products: